SH404 for Joomla Page Titles and Meta Descriptions
SH404 for Joomla Page Titles and Meta Descriptions
Brief description of adding custom meta data to your Joomla web pages using sh404, assuming SH404 already installed and configured.
The following step show you how to individually customise Page Titles and Descriptions.
If you have many pages and don't want to customise every page in your site SH404 does a pretty good job automatically, but you can help it along - see last step for tips.
The home page meta data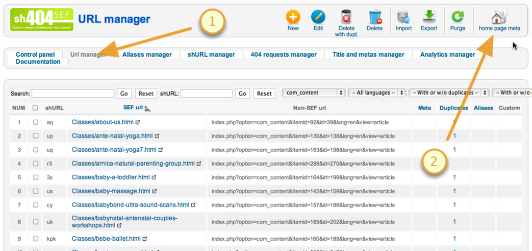 Login to the backend of Joomla
under components find sh404
click the url manager
top right you will see a button for the home page meta - click
Home Page meta information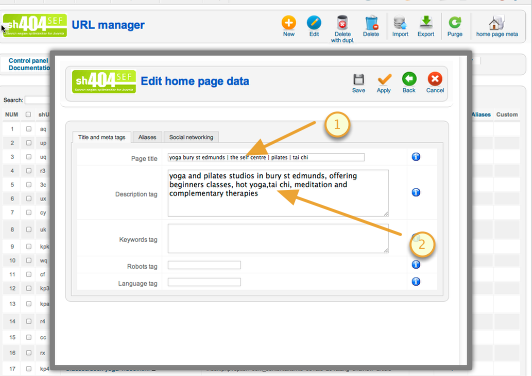 once you have clicked the home page meta button a new window will open
add or amend your page title here
add or amend your home meta description here
save
Other Page Meta Data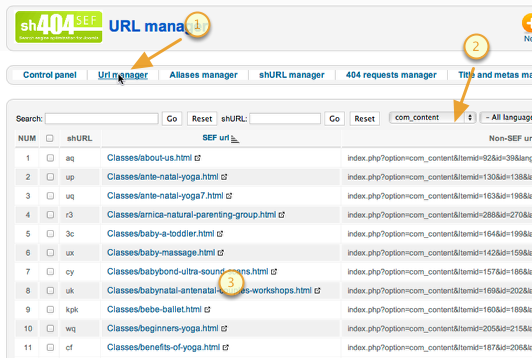 Login to the back end of Joomla
Under components find SH404
click url manager
filter to com_content
alphabetical list of your pages will appear
Adding the meta data to each page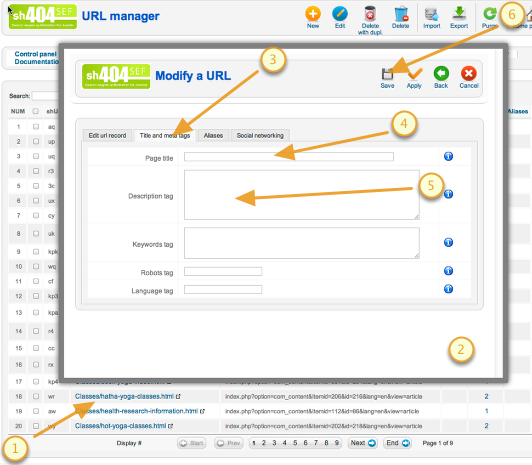 click on the chosen page
a new dialogue box will open
click on the Title and meta tags tab
enter the page title here - this is what appears at the top of a visitors browser window, and is used by Google to identify what the page is about
enter your page description here - use good english as this appears in the google search results and aid the visitor and Google to identify the page contents
save
TIP 1 - category names can help you out

If you are going to let SH404 automatically create your meta data you can help make sure its giving you the best page titles by making your article category names and relevant to your business as SH404 uses the category names to work things out. i.e..
if you were running classes, don't just call your classes "classes", divide them up and identify more concisely calling them "yoga classes"or "pilates classes bury st edmunds"
SH404 will pickup all the nest category names, so subcategories are useful to add extra information
TIP 2 - appending and prepending all page titles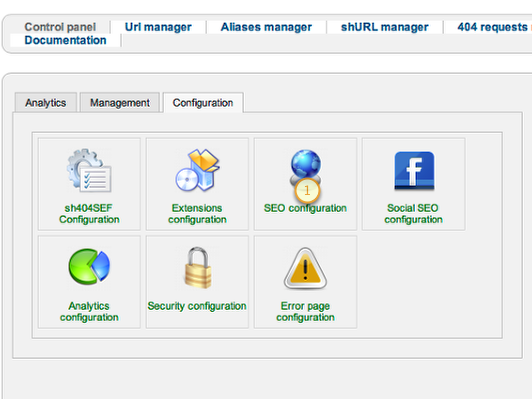 click SEO configuration from the main screen
appending and prepending all titles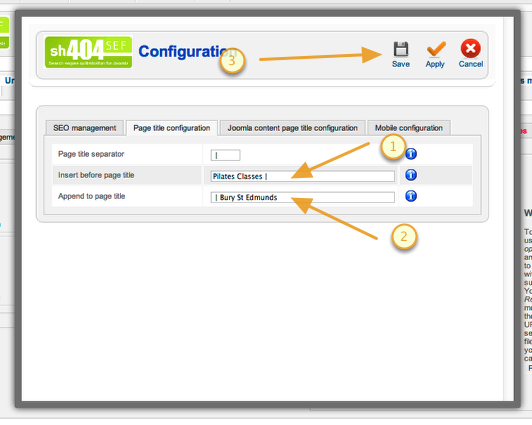 new dialogue box opens
add text here - we use a pipe symbol and some spacing to make these additions more visually appealing
add text here - we use a pipe symbol and some spacing to make these additions more visually appealing
save
this will add this wording to every page title throughout the website.
Wednesday, 17 July 2013